3M- LOGISTICS
Sea Freight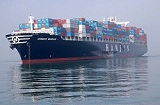 Sea Freight:
Full Container Load
3 M Logistics offers comprehensive range of worldwide full-container load service through partnerships
with leading carriers to meet customers' unique requirements.
We provide a wide-range of container types for your shipping demand, such as dry container, 40' high cube,
and reefer container, open top and flat-rack containers.
3 M Logistics offers worldwide less-than-container load service to meet customers' requirement when they don't have enough cargo for a full container.
3M-Logistics offers a diversified range of sea freight forwarder services all over the world including transit and free zones industries business plus all the below
services:
Export import sea freight shipment
Consolidation
LCL
FCL
Break-Bulk
RO/RO shipments.
Heavy lefts cargo
Pre-and on carriages
(also by inland navigation)
Project Cargo
Warehousing
Customs clearance
Documentation
Insurance
Document legalization from the chamber of commerce and the embassies including invoices and issuing plus legalize the certificate of origin.
Hazardous cargo.